News
Renewal of the mandate of Michel Bouvier as Chief Executive Officer of IRIC
Published on May 26, 2023
At the 0178th meeting held on April 11, 2023, the Executive Committee of the Université de Montréal appointed Michel Bouvier as Chief Executive Officer of the Institute for Research in Immunology and Cancer (IRIC), for a fourth term beginning June 1, 2023 and ending May 31, 2024.
Michel Bouvier is Full Professor in the Department of Biochemistry and Molecular Medicine in the Faculty of Medicine of the Université de Montréal. He is a Fellow of the Canadian Academy of Health Sciences (CAHS), a Fellow of the Royal Society of Canada (RSC) and a Fellow of the Canadian Institutes of Health Research (CIHR).
"It is with great pride that I begin this renewed mandate as IRIC's Executive Director. Our Institute stands out thanks to the remarkable work of its members. It is an honour for me to continue to support and promote IRIC's research excellence and unique model", says Michel Bouvier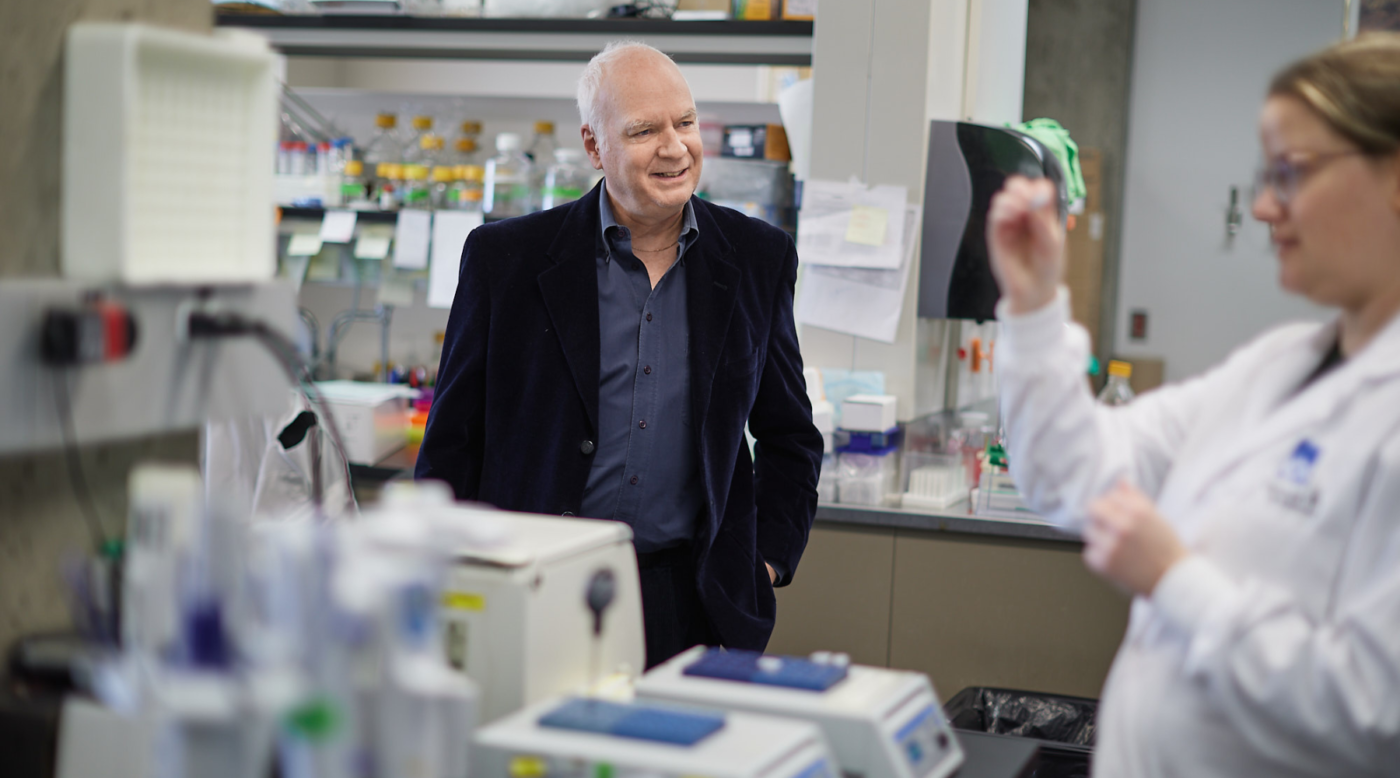 Professor Bouvier's research has led to extraordinary advances, including a deeper understanding of how G protein-coupled receptors work. Michel Bouvier's work has earned him a number of awards and accolades, including the 2017 Wilder-Penfield Award as part of the Prix du Québec, the highest distinction awarded by the Quebec government in the scientific field, as well as the Killam 2021 Prize in Health Sciences, awarded by the Canada Council for the Arts to researchers who have distinguished themselves by demonstrating excellence and making a significant impact in their field. In 2014, he was in the top percentile of most cited scientists internationally, according to the Thomson Reuters list.
On June 22, 2022, Michel Bouvier was named Chevalier de l'Ordre national du Québec. This honorary decoration, awarded by the Quebec government, is the highest of Quebec's distinctions, designed to promote excellence among outstanding individuals who have made exceptional contributions to Quebec's development.
It was also with great pride that, on April 13 2023, Michel Bouvier received an honorary doctorate from the University of Montpellier for his work on G protein-coupled receptors and his contribution to scientific advances in the field of molecular pharmacology.
In addition to leading his laboratory and mentoring his students, as Chief Executive Officer, he is responsible for ensuring IRIC's short- and long-term success and growth. Under his leadership, the Institute's reputation has grown steadily, as has its scientific excellence, making it a leading player in the fight against cancer.