News
Captain Mathilde: combining racing and science for the benefit of research
Published on August 24, 2023
Research advisor in the laboratory of Sylvain Meloche, who heads the Signalling and Cell Growth Research Unit, Mathilde Soulez has agreed to assume for a second year the captain's role for Team IRIC at the Marathon Beneva de Montréal. Scientist, runner, coach, mother; meet a woman of many talents and interests.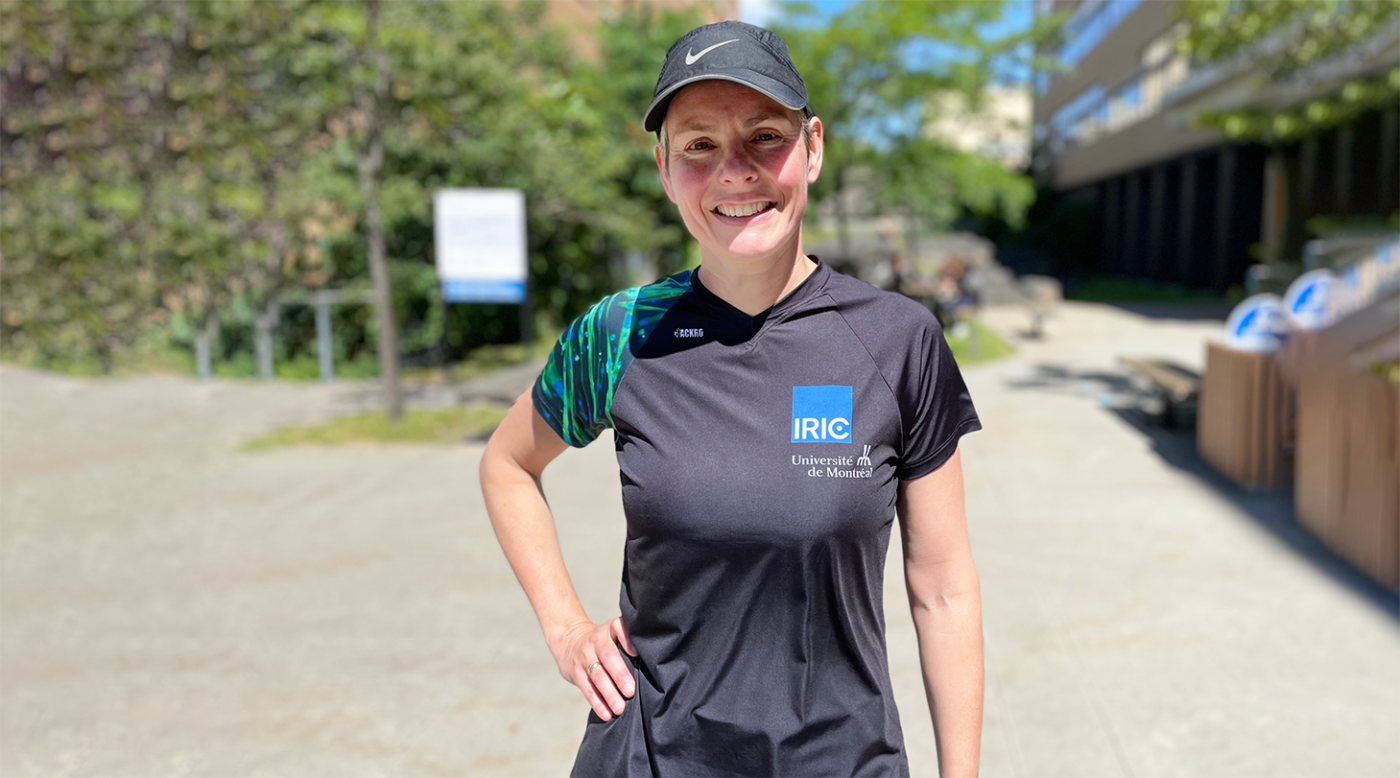 How did your scientific background lead you to IRIC?
Mathilde Soulez (M. S.) : I completed my training in veterinary medicine in France, at the end of which, when it came time to specialize, I opted for the laboratory bench. I therefore began the equivalent of a master's degree in immunology, which led me to Montreal for an internship in the summer of 2004. I really fell in love with the city at the time, and decided to stay in my host laboratory, Dr. Marie-Josée Hébert's at CHUM, to start a PhD.
I met Sylvain Meloche at the end of my PhD, and he gave me the confidence to pursue a post-doctorate, at the end of which I remained on the team as a research advisor. I've been at IRIC since 2012! My role in the laboratory today is to manage various projects as well as our colony of over 25 murine lines. I'm also available to support students in training in our lab.
Where does your passion for running come from?
(M. S.) : My encounter with the sport was an unlikely one; I hated running when I was younger. It was an introductory program for running 5 km that reconciled me with running, by chance, in 2013, when I was looking for an activity that would do me good mentally. It was love at first sight! Since then, I've run over a dozen half-marathons, three marathons, several trail distances, and I've lost count of the shorter distance races.
In 2018, during my third pregnancy, I had to slow down. That is when I turned to coaching. I did my homework, took some coaching courses and have been a coach for my running club in Verdun ever since!
Why are you involved as captain and coach of Team IRIC?
(M. S.) : I've been involved as a runner in sports challenges to benefit IRIC since 2014. Back then, I started with a half-marathon during the Défis du Parc, in Mauricie. I then ran numerous times on Mount Royal, around the Institute, as part of the IRIC Great Challenges against Cancer.
As my colleagues were well aware of my involvement with the Institute and my love of running, I was asked to captain the team in 2022, just after the pandemic. I was delighted to take on this role. With my dual role as captain and coach, I aim to motivate my colleagues to join the team, raise funds and train. I enjoy helping beginners complete their first 5 km, as well as supporting others with more experience who want to achieve a personal goal.
IRIC's new sportswear collection features your "Myotubes" image; what does it mean to you?
(M. S.) : This microscopy image is the result of a very difficult experiment. I isolated cells called myoblasts, which are muscle stem cells, from a murine model and succeeded in making them differentiate into myotubes. I'm very pleased to have succeeded in the experiment and to have obtained such a beautiful image.
Wearing your team's colors creates feelings of belonging and pride; I'll be doubly proud to wear these colors as well as the image of my own experience, both in training and on the race day. Moreover, I find that illustrating the surpassing of one's athletic potential with muscle cells is quite appropriate!