News
Pasquale Gentile: a patient treated with the UM171 molecule visits IRIC
Published on September 6, 2023
On July 14, Pasquale Gentile, a patient who received cell expansion therapy based on the UM171 molecule, visited IRIC's laboratories to visit the Drug Discovery Unit and meet Stéphane Gingras, the chemist who synthesized the UM171 molecule.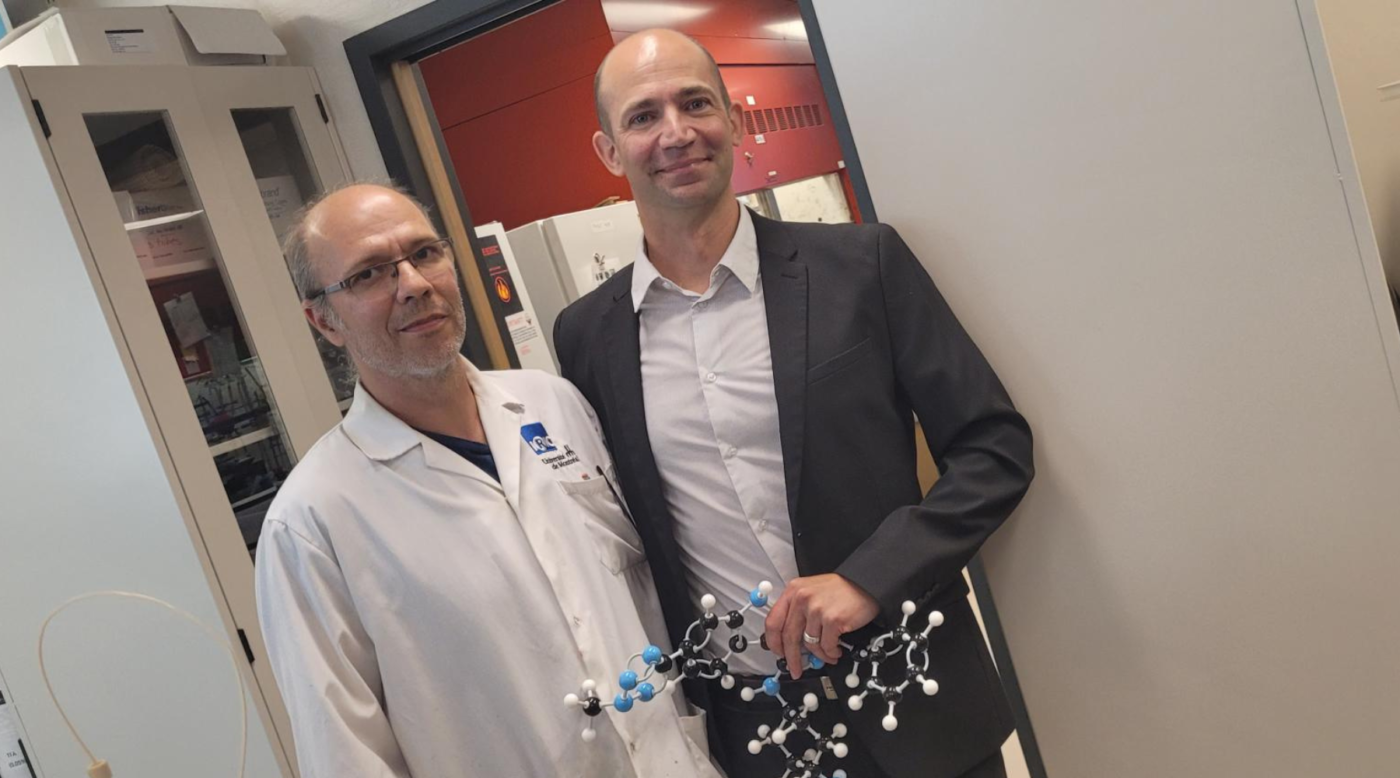 In December 2017, Pasquale Gentile is diagnosed with leukemia. Conventional treatments for the disease prove ineffective for him. As a last resort, his medical team proposes an experimental protocol: therapy with umbilical cord blood cells expanded by the UM171 molecule as part of clinical trials. This innovative cell therapy worked for Pasquale Gentile, saving his life.
"It is this transplant that allows me to fully enjoy life, my family and my children."
Pasquale feels great gratitude towards science and research, and more particularly towards the dedication of the IRIC team who led the deployment of UM171 in the clinical setting. It was with great emotion that Pasquale visited the team of the IRIC Drug Discovery Unit and met Stéphane Gingras, the chemist who synthesized the UM171 molecule. The research work carried out at IRIC leads to concrete results and Pasquale Gentile is an example of this. He, in turn, wants to support research and promote IRIC's excellence in advances in cancerology.
About the UM171 molecule
Discovered in 2014 by the teams of Guy Sauvageau and Anne Marinier at IRIC, named in honor of the University of Montreal, the UM171 molecule allows the multiplication of stem cells present in umbilical cord blood. It was in 2015 that Health Canada authorized the first phases of clinical trials for the transplantation of stem cells multiplied in a unit of umbilical cord blood with the UM171 molecule in people with blood diseases, including leukaemias, myelomas and lymphomas. Guy Sauvageau's team describes the mechanism of action of the molecule in 2021: the UM171 molecule uses a new molecular mechanism to control the epigenome of stem cells and could contribute to their epigenetic rejuvenation. Over 100 people have now been treated with expanded cell therapy using the UM171.